Our feet have 26 bones and 35 joints, held together and supported by many muscles, tendons and ligaments. Children's feet can grow very fast and so they need to have a good environment that supports their growth, protects their feet and gives them confidence to run and explore their world. Walking with well-fitted shoes and going barefoot supports healthy foot development.
Children and Paediatric Podiatry
Does your child complain of sore legs, sore feet? Are they limping or favouring one foot or even tripping over? Children should be active and having fun. They are constantly changing, growing and developing and their feet are no different. It is normal for feet to change in shape, size and alignment with development.
We often see common problems with growing feet in teenagers which you can read about more here
Pain can limit their activity and ability to participate in sports and daily living. A foot assessment can help to identify any issues with their feet and legs, and we can provide advice or a treatment plan to reduce pain, improve function and keep them active.
Some of the regular paediatric foot problems we treat are:
- Severs disease (calcaneal apophysitis) – sore heel
- Ingrown nails
- Warts/verrucae/plantar warts
- Feet rolling inwards/pronation
- Sore knees and shin splints
We also help fit children's feet for shoes, especially if they have specific conditions such as recurring ingrown toenails or falling arches.
Related article: 7 tips to choose well-fitting shoes for your children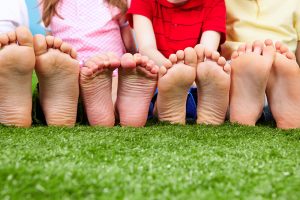 Why Choose Sanders Podiatry? Linden Park, Stirling or Mount Barker Clinics
Sanders Podiatry Adelaide is dedicated to the complete care of your feet, making you comfortable, secure and stable on your feet throughout your life. We have a family-friendly clinic and address foot concerns at any age and for any problem. We are a client-centred clinic with individualised treatment plans to treat your unique condition.
Our gentle and practical approach to your foot care is with your long term wellbeing in mind, we are here to help you as well as educate and inform you about your feet and their longevity.
We are widely connected to organisations and associations setting standards for excellent foot care around Australia, namely:
• The Australian Podiatry Council
• The Australian Podiatry Association
• Sports Medicine Australia
• The Australasian Academy of Podiatric Sports Medicine
• Physitrack certified exercise prescription
• Arthritis Aware
Call us to book an appointment:
Sanders Podiatry in Linden Park – 08 8379 1456
Sanders Podiatry in Stirling – 08 8339 3344
Sanders Podiatry in Mount Barker – 08 8370 1590