High arches are the opposite of flat feet, which tend to roll inwards or pronate. Feet with high arches don't pronate or roll inwards at all but maintain a high inside curve. This can cause discomfort or even pain for some people.
There could be underlying causes for having high arches such as neuromuscular problems, but in most cases it is hereditary.
Here's a simple way to determine if you have high arches:
Stand on a piece of paper with wet feet until the water sinks into the paper. Step off the paper and observe the shape. If you have a high arch, the shape on the paper will only show the ball and heel of your foot with nothing in between. If there is slight imprint between the two, then you have a moderately high arch. See the image below.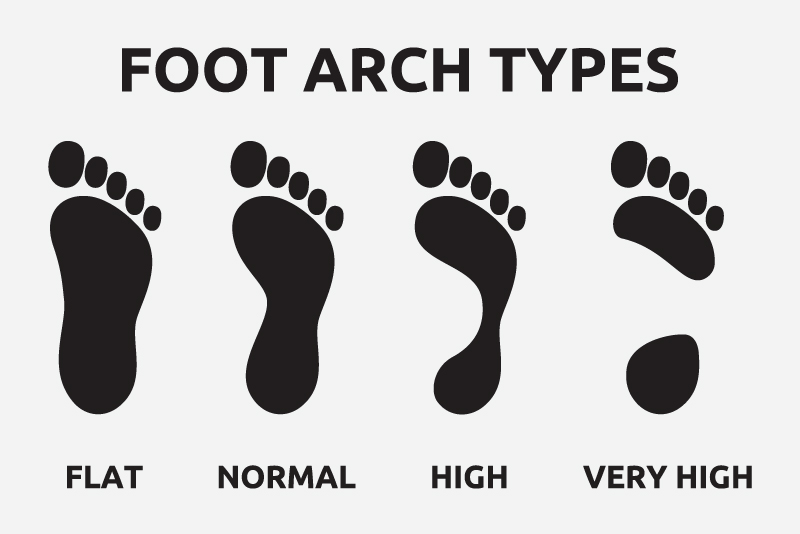 Symptoms of High Arches
A high arched foot doesn't have the same shock absorbing features or flexibility as a normal foot. The arch is high and more rigid, the toes may be clawed and you may also have calluses on the heel or the ball of the foot which are taking all the pressure and weight as you walk. However not everyone with high arches experiences pain or discomfort, but if you are, then please contact us at the clinic so we can help you develop ways to ease and alleviate the symptoms.
Some of the problems that can occur in feet with high arches are as follows:
Plantar Fasciitis
People with high arches are prone to developing plantar fasciitis. The plantar is the band of tissue under the foot that connects your heel to your toes. High arches can add more strain to this band of tissue, which can become overstretched and inflamed. It is worse when sitting for long periods of time and feels like a stabbing or burning pan in the arch of the foot.
Claw toes
Toes can curl over and look like the claws of a bird, and can dig into the soles of your shoes putting strain on your toes. This can cause calluses on the balls of your feet as well as on top of your toes, it can affect your gait and make shoes uncomfortable to wear.
Foot and ankle instability
In high arched feet, you may notice your foot tipping outward slightly which can cause an imbalance and make you prone to ankle sprains. If you are getting repeated ankle injuries, high arches may be the underlying reason.
Treatment options for high arches
Many people with high arches have no discomfort, but if you are experiencing symptoms, then you most likely will need some professional advice. Our podiatry team will assess your foot mechanics and provide a personalised treatment plan to assist you.
Here are some of the common treatments for discomfort or pain associated with high-arched feet.
R.I.C.E – For acute inflammation or to alleviate pain quickly, try the R.I.C.E approach at home – Rest, Ice, Compression and Elevation. This can be used for all foot pain where there is soft tissue damage causing swelling and pain in your feet.
Physical therapy – our podiatrists would apply gentle techniques to help the arch of the foot rebalance and restabilise.
Footwear changes – we'll help you with changes to footwear if necessary, so that your foot is properly supported without being strained or pushed outward.
Orthoses/Biomechanical therapy – we may recommend custom orthotics to help balance your arch and stabilise the foot.
Call us to arrange an appointment with one of our podiatrists
In our podiatry clinic, we'd assess your foot structure, walking style (gait) and the cause of the problem by finding out more about your activities and habits. We'd develop a personalised treatment plan to help alleviate your symptoms in the short and longer term. With many symptoms of high arch feet, it is a matter of working with the structure of your foot and avoiding any activities or shoes which add more strain. We'd also teach you some stretching exercises to do at home to relieve symptoms.
Call us at a convenient location near you to make an appointment with one of our podiatry clinics – we have three locations around Adelaide:
Sander Podiatry Adelaide – 08 8379 1456 (Greenhill Podiatry)
Sander Podiatry Stirling – 08 8339 3344